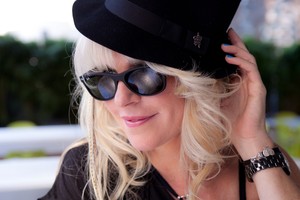 PR Contact:
Amanda Blide
323.668.9383
Official One Sheet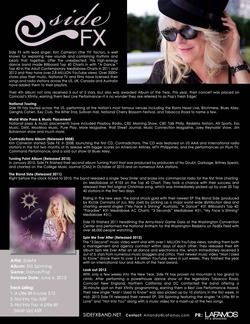 Press Sheet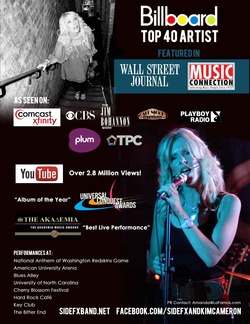 SideFX "Still Spinning"
Suggested tracks are marked in red.
| | Song Title | Time |
| --- | --- | --- |
| | 1. A Little Bit In Love | 3:15 |
| | 2. Not Into You | 3:59 |
| | 3. Not Into You- A Little Bit (Mash Up) | 4:09 |
| | 4. Not Into You (Remix) | 3:31 |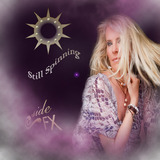 By clicking submit and downloading this album you agree that all tracks are for review purposes only. You may stream up to two songs on your website or blog after requesting permission by email
here
. Any commercial use is prohibited by law.
OFFICIAL BIO
Side FX with lead singer, Kim Cameron (the 'FX' factor), is well known for exploring new sounds and combining rhythms and beats that together, offer the unexpected. This high-energy dance band made Billboard Top 40 Charts in with "A Dance," Top 40 in the Adult Contemporary Mediabase Charts in 2011 and 2012 and they have over 2.8 MILLION YouTube views. Over 2000+ stores play their music, National TV and films have licensed their songs and radio stations across the US, UK, Canada and Australia have added them to their playlists.
Their 4th album not only received 5 out of 5 stars, but also was awarded Album of the Year. This year, their concert was placed on Comcast's Xfinity, earning them Best Live Performance--it is no wonder they are referred to as Pop's Fresh Edge!
National Touring
Side FX has toured across the US, performing at the Nation's most famous venues including the Rams Head Live, Birchmere, Blues Alley, Genghis Cohen, Key Club, the Bitter End, Sullivan Hall, National Cherry Blossom Festival, and Tobacco Road to name a few.
World Wide Press & Music Placement
National press & music placements have included Playboy Radio, CBS' Morning Show, CBS' Talk Philly, Redskins Nation, Alli Sports, Eos Music, DMX, MooMoo Music, Pure Play, More Magazine, Wall Street Journal, Music Connection Magazine, Joey Reynolds' Show, Jim Bohannon Show, Fox Sports, National Geographic, Bravo's Flipping Out, MTV, WB, and much more.
Contradictions Album (Released 2008)
Kim Cameron started 'Side FX' in 2008, launching the first CD, Contradictions. The CD was featured on US AAA and International radio stations in the first two months of its release with bigger scores on American Airlines, MTV Philippines, and live performances on Plum TV, Command Performance, and a sold out show at Blues Alley.
Turning Point Album (Released 2010)
In January 2010, Side FX finished their second album Turning Point that was produced by producers of No Doubt, Garbage, Britney Spears, and charted on the College Music Journal (CMJ) in October of 2010 and on numerous AAA stations.
The Blond Side (Released 2011)
Right before the clock ticked to 2010, the band released a single 'Sexy Smile' and broke into commercial radio for the first time charting on Mediabase at #103 on the Top 40 Chart. They took a chance with their success and released their first original Christmas song, which was immediately picked up by over 20 Top 40 stations in the first two days.
Riding in the new year, the band struck gold with their newest EP The Blond Side (produced by Richie Cannata of JLo, Billy Joel) by picking up a major world wide distribution deal and charting several singles ("My Face is Shining" Australia, "A Dance" #31 Billboard's Top 40; "Paradise" #31 Mediabase AC Charts; "3 Seconds" Mediabase #51; "My Face is Shining" Mediabase #31).
Side FX finished 2011 headlining the Army-Navy Game Gala at the Washington Convention Center and performed the National Anthem for the Washington Redskins on FedEx Field with over 68,000 people watching.
Spin Me Ever After (Released 2012)
The "3 Second" music video went viral with over 1 MILLION YouTube views, landing them both a management and agency contract within days of each other. They released their 4th album Spin Me Ever After an all dance and electronica mix, which immediately received 5 out of 5, stars from numerous music bloggers and critics. Their newest music video "Man I Used to Know" drove them to over 2.4 Million YouTube views in just weeks. They finished the year with an international tour and Album of the Year award.
Look out 2013
With only a few weeks into the New Year, Side FX has proven no mountain is too grand to climb. After performing a powerhouse dance show at the legendary Tobacco Road, Comcast New England, Northern California and DC contacted the band offering a 30-minute spot on their Xfinity programming, earning them a Best Live Performance Award. Their new single "Man I Used to Know" was also picked up by 10 stations in the first week. In mid- 2013 Side FX released their newest EP, Still Spinning featuring the singles "A Little Bit In Love" and "Not Into You" along with a music video for a mash-up of the two songs.
Look out world.... Side FX is coming to town! Keep up with their journey at www.SideFXBand.net.